Many people are surprised – and more than a little concerned - at the choice of Donald Trump for President by the American electorate. To them he seems a mystifying choice, totally unsuited in both temperament and character, for the immense responsibilities of this office. It may sound like hyperbole, but the prayer on the lips of many was 'Lord, have mercy' followed by a heart cry: why, oh why, when there is so much uncertainty, friction and trouble around the world, has the Lord allowed such a man to be elected President?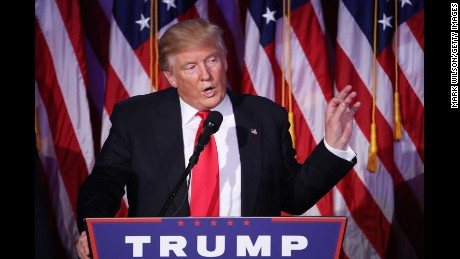 But this is democracy in action. It is clearly the will of the people. In the Old Testament, we read of another surprising 'choice of the people' – Saul as King over Israel.
To paraphrase the story told in 1 Samuel, chapters 8 onwards, the people of Israel wanted a king to rule over them. In fact they demanded one and had very clear ideas about the kind of person they wanted. Samuel, under God's instructions, anointed Saul as King, chosen to meet the people's criteria, not His. Before anointing Saul, Samuel warned the people about the kind of man he was, and how he would exploit his office for his own ends. Nevertheless, the people demanded Samuel to go ahead. But within a short period of time, we read how the weaknesses of Saul's character were affecting his judgement and Samuel declared that God had chosen another: a man after His own heart.
The parallel here is that the Lord allowed the Israelites to have the kind of ruler they wanted but in doing so, they had to experience the consequences of this choice. But meanwhile, David was being trained in God's ways as His choice of king at a future date.
The challenge to us all is that rather than moan, cringe and tweet cynical epithets, we should follow Samuel's example: 'As for me, far be it from me that I should sin against the Lord by failing to pray for you'( 1 Samuel 12 v 23) and perhaps – keep an eye out for David…
Pat Finlow is a member of the Christians on the Left executive.
Do you like this post?