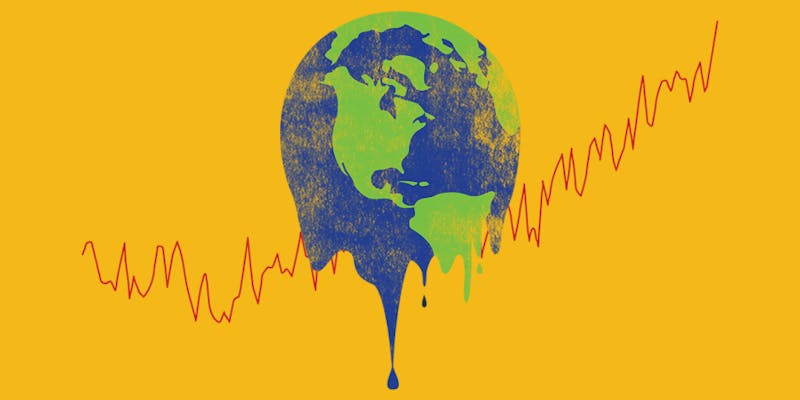 What do New York City, the World Council of Churches and the Leonardo Di Caprio Foundation have in common? They are among more than 1,100 institutions globally that have made commitments to divest from fossil fuel companies.
In recent years, the scale of the climate emergency we are facing has become increasingly clear. UN General Secretary António Guterres said last September: 'Climate change is the defining issue of our time – and we are at a defining moment. We face a direct existential threat. If we do not change course by 2020, we risk the point where we can avoid runaway climate change, with disastrous consequences for people and all the natural systems that sustain us.'
The climate emergency, UK Churches and fossil fuel divestment
As Christians, our faith calls us to act on the climate crisis out of love for our neighbours, especially the poor and marginalised. We also have a responsibility to care for God's creation, a gift that has been entrusted to us.
So, what can we do?
Is it ethical to invest in fossil fuel companies?
Given the devastating impacts of the climate crisis around the world, is it ethical for the Church to continue investing in fossil fuel companies?
Churches have long been at the forefront of ethical investment, excluding areas such as arms, tobacco and gambling from their financial portfolios. Yet when Operation Noah's Bright Now campaign for fossil free Churches was launched in 2013, the ethics of investing in fossil fuels had received little attention among most investors.
That is now starting to change. The Quakers in Britain, the United Reformed Church and the Church of Ireland have all committed to full divestment from fossil fuels. The Methodist Conference and the Church of England General Synod have supported divestment from oil and gas companies whose business investment plans are not aligned with the Paris Agreement goals by 2020 and 2023 respectively. However, most UK Churches are still investing millions of pounds in the oil and gas industry.
Major oil companies fuelling the climate emergency
There are several times more known fossil fuel reserves than we can burn if we are to limit global temperature rises to 1.5°C. Despite this, the oil and gas industry plans to spend $4.9 trillion on the exploration and extraction of new fossil fuel reserves in the next decade.
Furthermore, at the same time as publicly claiming to support the Paris Agreement, the five largest publicly listed oil and gas companies, including BP and Shell, have been spending $200 million a year to block, control and delay policies to tackle climate change, according to InfluenceMap research published in the Guardian earlier this year.
In May, the United Reformed Church voted unanimously to divest from fossil fuel companies, and then succeeded in getting their investment managers, CCLA, to offer a fossil free fund. Announcing their decision, Revd Nigel Uden and Mr Derek Estell, Moderators of the United Reformed Church General Assembly, said: 'Fossil fuel divestment is a practical way in which the United Reformed Church is responding to the climate emergency. We are taking this step in solidarity with our brothers and sisters around the world who are most affected by the climate crisis, despite having done the least to cause it. Therefore, it is only right that we actively move to support renewable sources of energy instead.'
As well as divestment from fossil fuels, investment in the clean technologies of the future needs to scale up rapidly. The Governor of the Bank of England, Mark Carney, has said that new technologies and infrastructure projects need to be financed at roughly quadruple the current rate in order to accelerate the clean energy transition. Christian Aid stated last year that 'investing in the alternatives is the Churches' prophetic responsibility'.
How you can get involved
There are a number of actions you could take if you would be interested in getting involved. Perhaps you could encourage your local church to divest from fossil fuels, using the step-by-step guide on the Bright Now website, and urge your regional/national Church structures to do the same. You could also write to your MP asking them to sign the 'Divest Parliament' pledge and join nearly 300 colleagues in calling for the Parliamentary Pension Fund to phase out fossil fuel investments. Or you could come to a JustShare event at St James's Piccadilly on the evening of Tuesday 29 October entitled 'Fossil fuels and the climate emergency', including speakers from the Church of England Pensions Board, Christian Aid and Operation Noah.
In November 2020, the UN climate talks will take place in Glasgow, coming to the UK for the first time. The stakes could not be higher. Let us call on the UK Government, our Churches and other institutions must demonstrate leadership in responding to the climate emergency to ensure a liveable planet for those most affected by the climate crisis today, and for future generations.
James Buchanan is the Bright Now Campaign Manager for the Christian climate change charity Operation Noah. To learn more about the campaign and how you can get involved, visit the Bright Now website.
Do you like this post?